Auto Loan Lending in the Recovering Economy
Apply for a Loan
Secured with SHA-256 Encryption
UPDATED: Dec 15, 2020
Advertiser Disclosure: We strive to help you make confident loan decisions. Comparison shopping should be easy. We are not affiliated with any one loan provider and cannot guarantee quotes from any single provider. Our partnerships don't influence our content. Our opinions are our own. To compare quotes from many different companies please enter your ZIP code on this page to use the free quote tool. The more quotes you compare, the more chances to save.
Editorial Guidelines: We are a free online resource for anyone interested in learning more about loans. Our goal is to be an objective, third-party resource for everything loan related. We update our site regularly, and all content is reviewed by experts.
The economy has been steadily recovering.
While it certainly has not recovered as fast as most Americans would like, the unemployment rate has clearly been decreasing since its peak in late 2009 as the chart below shows.
In late 2009, unemployment reached its highest point in recent years. The unemployment rate then began a steady decline in 2010, which then continued to fall through 2011, 2012, and into the present year of 2013.
This data alone does not mean that the economy is recovering. Additional data is needed to see if the economy is actually recovering, and if the unemployment rate drop is due to actual gains in employment. We decided to look at the correlation between the auto loan industry and this employment rate to see if consumer confidence has been returning as fewer people count themselves amongst the unemployed.
By combining data from the Bureau of Labor Statistics and the Quarterly Report on Household Debt and Credit from the Federal Reserve, loans.org discovered a clear correlation between the unemployment rate and increased auto loan borrowing: Americans are not only working again but also buying cars.
(You can borrow an auto loan here if you're interested in becoming one of those car buyers)
The Rise of Good Car Debt
This graph depicts total auto loan debt balances against the unemployment graph above.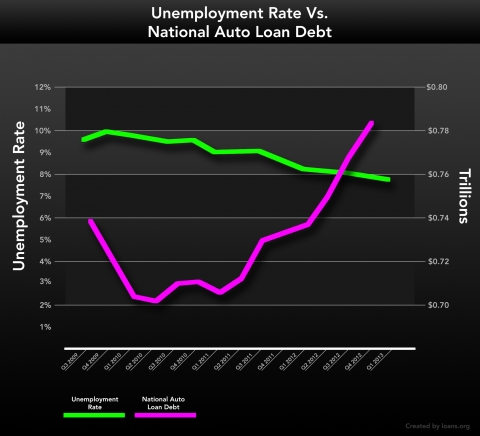 As evident, the two trend lines have been moving in opposite directions. As unemployment fell, auto loan debt increased. This relationship is a clear sign that the economy has indeed been rebounding, as gradually growing ranks of the employed were using their paychecks to pay for cars and to finance auto loans: a clear indication that consumers' confidence in their employment situations has been increasing
Mike Schenk, Senior Economist with the Credit Union National Association, told loans.org that auto loan debt tends to increase when people have jobs.
"When people are employed and when employment is increasing, by definition that normally means that income is increasing and people's ability and willingness to purchase things tends to go up," said Schenk. "When people have jobs they have incomes and are in a better position to afford cars."
The Tale of New Auto Loan Originations
Auto loan originations, which defined as the opening of new accounts to finance the purchases of cars, also gradually increased in time.
As the chart below shows, auto loan origination balances increased by over $30 billion between the end of 2009 and the end of 2012; the very same time when unemployment began to decrease.
One primary reason people were seeking new auto loans is that they had been forced to. During the Great Recession, drivers clung onto their cars out of necessity. With so little credit available and jobs just as rare, drivers drove their used cars longer than usual.
However, the Great Recession was years ago.
By now, many used cars have been repaired as much as they can be and have reached a point of irreparability. This means that drivers—now enjoying employment once again—are out in force to buy new cars; and of course borrow the auto loans they need in order to to purchase these new vehicles.
Schenk explained that in an economic recovery, the longer the duration of the economic recovery, the more pronounced the income and employment gains are.
He attributes this increase to a rise in wealth. People, once again working in greater numbers and leaving the ranks of the unemployed, spent their money doing what America does best: buying things, in this case, purchasing cars using auto loans.
"We've seen new car sales increase to $14.5 million in 2012," said Schenk speaking concerning the experiences of the Credit Union National Association. "In February 2013 car sales came in at 15.7 million units analyzed. We've seen a steady progression over the last four years in new vehicle sales. New car sales are likely to go up eight to ten percent per year."
Auto Loan Delinquencies and Unemployment
The delinquency rate also lends truth to the evidence of economic recovery.
As the chart below depicts, auto loan delinquencies decreased along with the unemployment rate. For once, the research found that a trend moving in the same direction is a positive sign.
Delinquencies decreased because delinquent auto loan borrowers were once again employed and able to use some of their income to make on-time payments towards their debt. In effect, the delinquency rate fell because borrowers finally had cash on hand.
"Delinquencies are declining because the labor market is improving, the unemployment rate is going down and the economy is recovering," said Schenk.
As positive as these signs are, if trends were all that determined the future then America would never have entered the Great Depression after the Roaring Twenties. Just the same, the current trend could be reversed.
Moving Hesitantly Forward into the Future
Schenk cautioned that the current trend of rising employment and car purchases might be reversed by a drop in consumer confidence and increased government austerity; which would impact the economy's ability to grow.
"The fact that we've now lived in a fairly sizable increase in tax rates, combined with the fact that the government is cutting spending has an impact," said Schenk. "We expect the economy to grow a bit less since taxes have gone up but spending has gone down."
Schenk suspects that increased wealth and affordability will overwhelm most concerns and propel the market forward in 2013. If the trend in unemployment continues, then more Americans will be working in the near future as well. Surely, many Americans can hope that such sentiments prove true in the coming months despite ongoing global and domestic problems. Until then, the country will have to hold its breath until forthcoming government data proves which way the economic winds are blowing.